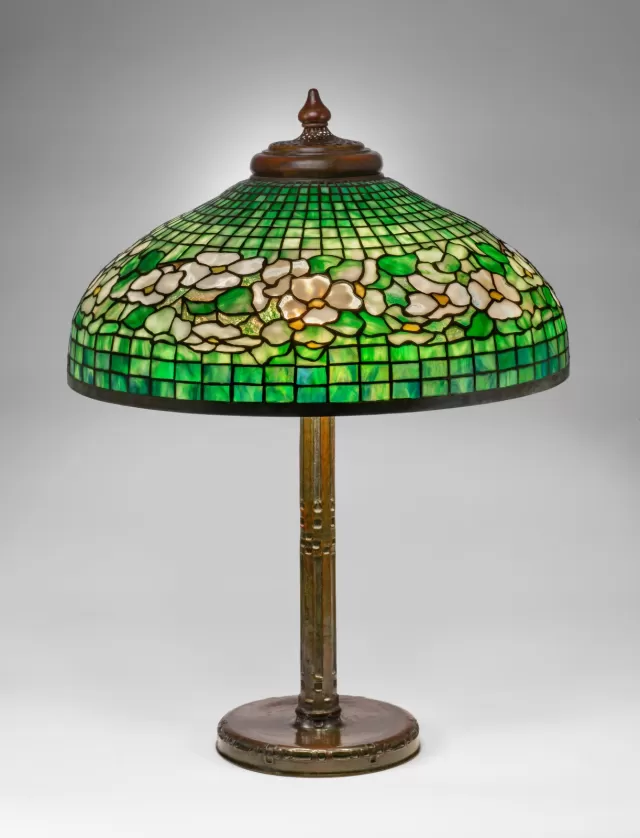 Dogwood Band Library Lamp
Made in New York, sometime around 1905
Assembled Height: 28.5 in.; Diameter: 20 in.
ORIGINAL COLLECTION OF DR. EGON NEUSTADT
Not all of Tiffany's lampshades are exuberant and colorful. Some, like this Dogwood, feature a monochrome, geometric background decorated only with a restrained frieze of flowers. The white, uniform dogwoods seen here are a stark contrast to the bright, showy blossoms featured in most of Tiffany's other lamps.

Shade-
Created by Tiffany Studios, New York (1902-1932) under the artistic direction of Louis C. Tiffany (1848-1933)
Made in New York, sometime around 1905
Glass, cut and assembled with copper foil and solder
Height 8.5 in.; Diameter 20 in.
"Leaded Shades [No.] 1490, 20" Dogwood, band" (as described in: Price List, October 1, 1906, TIffany Studios, New York)
Marked "TIFFANY STUDIOS"; "NEW YORK"
N.86.T.04a
Base-
Created by Tiffany Studios, New York (1902-1932) under the artistic direction of Louis C. Tiffany (1848-1933)
Made in New York, sometime around 1905
Bronze, cast and patinated; electrical fillings
Model no. 528, Library standard, Fifteenth-Century
Marked "TIFFANY STUDIOS"; "NEW YORK"; "528"
N.86.SB.35
Photo: David Schlegel