Above: Photo by David Schlegel
The Neustadt is a premier collection of Louis C. Tiffany's celebrated lamps, windows, metalwork, and rare archival materials. The collection also boasts a unique Tiffany Glass Archive that includes more than a quarter of a million pieces of original Tiffany flat glass and glass jewels. Our Traveling Exhibitions program allows us to share our outstanding collection and curatorial expertise with audiences nationwide.
Tiffany or Tiphony: The Art of Looking
Available now through 2028
50 Lamps: 33 Original, 17 Convincing Forgeries. Can you spot the difference?
Image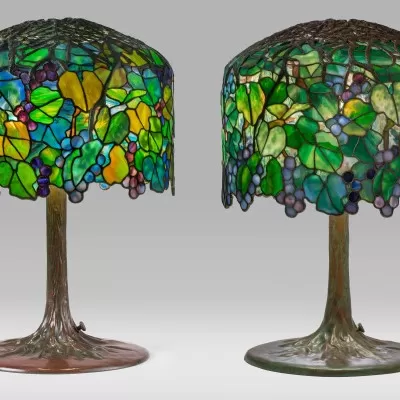 Tiffany's Gardens in Glass
Available now through 2026
Perpetually in bloom, Tiffany's floral lamps and landscape windows are a testimony
to the sophisticated design and exquisite craftsmanship of Tiffany Studios.
Image