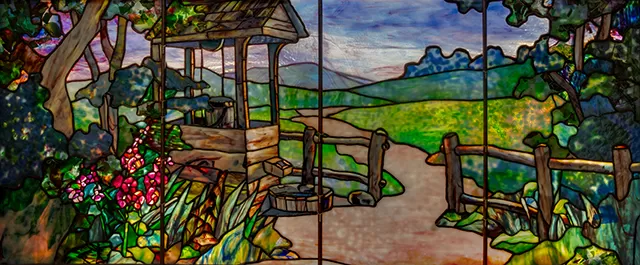 Well by Fence
Made in New York, sometime around between 1902 and 1910
Height 53 ½ in.; Width 21 ½ in.
ORIGINAL COLLECTION OF DR. EGON NEUSTADT
Two common techniques used by the Tiffany Studios to achieve naturalistic effects were plating and acid-etching. Plating, or layering two or more pieces of glass, gives depth to these windows by creating an illusion of receding hills and a distant horizon. The play of light along the top of the fence was achieved by acid-etching a piece of flashed glass (glass of one color, covered with a thin layer of a different color). Here, a horizontal strip of blue was etched off a piece of yellow glass and plated behind the brown and white streaky "fence" glass to create the sunlit effect.

Created by Tiffany Studios, New York (1902-1932) under the artistic direction of Louis C. Tiffany (1848-1933); Design attributed to Agnes F. Northrop (1857-1953)
Glass, cut and assembled with lead came copper foil
Not marked
N.86.W.09
Photo: David Schlegel